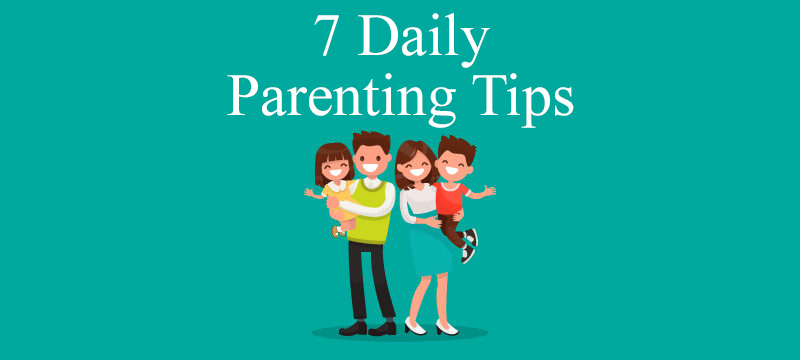 7 Daily Parenting Tips
Posted: April 20, 2020
Parenting Tips
Parenting Tip 1: Let your child take the helm…
Take at least 30-minutes of daily undistracted playtime where your child takes the helm. Watch what happens to their confidence! You'll learn a lot about your child when you let their personality and creativity shine. The best part is, the more consistent you are with this idea, the more your relationship with your child will blossom.
Parenting Tip 2: You cannot spoil your child with too much love and affection…
Aim for hourly hugs accompanied by the words 'I love you.' Watch what happens to your level of connection with them! Connection increases oxytocin, which suppresses stress and anxiety. Your household will shine brighter.
Parenting Tip 3: You level of attention makes a difference…
Get on your child's eye level & make physical content when talking to them. Watch what happens to their self-discipline. Children build self-respect when they are given respect. They thrive when they feel that level of attention.
Parenting Tip 4: Know what to expect and what not to expect…
Children are not one-size-fits-all. Be attuned to their stage of development and unique personality so you are more prepared, and at the same time not demanding too much from them. Watch what happens when you parent them according to their individuality. Their souls will shine!
Parenting Tip 5: Discover the difference between asking why and chasing the why…
Be more interested in why your is child behaving a certain way. Perhaps they need you to explain something differently. Or, perhaps they are not telling you something that caused the behavior in the first place. Watch what happens when you dig deeper in your questions. Your child's self-esteem will grow as they learn to open-up to you.
Parenting Tip 6: Your child will struggle more on certain days...
Be attuned to the underlying influences on your child's behavior. If they are hungry, tired, or stressed then they will not have the cognitive ability to control their behavior. Watch what happens when you have flexibility with how you respond based on this insight. Your child will learn how to build self-control with this approach to your parenting.
Parenting Tip 7: Take a few extra seconds before responding to poor behaviors…
Be patient when your child makes a mistake, as this will help you make better parenting choices. Watch what happens when you are more mindful in your response. This will help your child make better behavior choices.
Check out how Martial Arts can benefit your child by clicking here